My job as a Metro Detroit fashion stylist and image consultant is to help you to look and feel your very best in your everyday life and also in your business or work environment. This I will do with an intuitive and intelligent approach, that takes into great consideration who you are as a person and how I can help you enhance your personal style to suit your lifestyle.
Fashion is personal… it is a reflection of who you are. My job as a fashion stylist is to bring your inner beauty outward, so you can truly showcase your unique personality and style through your wardrobe! while not breaking the bank.
My efforts to satisfy my clients are evident in the many testimonials and referrals I receive. It is the greatest feeling in the world for me to see my clients satisfied and to know I have done my job by earning their trust and repeat business.
My fashion stylist services are for both men and women of all ages, who:
Need help choosing the most flattering and appropriate attire for their wardrobe.
Lack the time to shop for themselves and stay abreast of the latest fashion trends.
Have a strict budget and want to find new ways to wear what they already own.
As an image consultant, I will consult with you on how to look your best:
Aligning your outward appearance with your inner beauty to create a look that is harmonious to your goals.
Together we will identify your best color selection, heightening your potential and highlighting you.
We'll help figure out exactly what clothes suit you best, the style lengths, design lines and accessories.
We help businesses and public through fashion and image education:
Fashion 101 Workshops
Public Fashion Events
Custom Business or Personal Events
A little bit about me and my background.
I was born and raised in Italy, where I was constantly surrounded by many forms of beauty…  art, architecture, fine cuisine, music, theater and fashion all contributed to inspiring and developing my creative talents. I earned my first degree in Piano Performance from the Conservatorio di Musica in Campobasso, Italy. Working as a professional pianist I became actively involved in very prestigious cultural communities. As time went on, I realized that the women of these communities were highly respectable figures with admirable career positions, however when it came to fashion, they lacked a certain finesse in coordinating their wardrobe. Over time, I noticed that they became increasingly fascinated with my personal style and began constantly asking for my fashion advice. I recognized at this point that I desired to be a fashion stylist and wanted to put my innate talents to good use.
In the year 2000, I moved with my family to the United States and continued my education at Wayne State University, in Detroit, Michigan, receiving a Master's degree in Liberal Arts. I also finally pursued my lifelong dream to become a fashion stylist, completing a program at the American College of Professional Styling.
Sincerely,
~Raffaella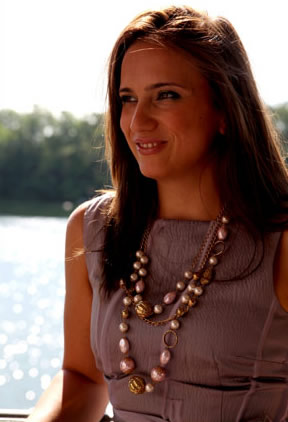 Raffaella Medoro-Naurato
Fashion Stylist | Image Consultant
"If we live not according to reason but according to fashion" Seneca, Roman Philosopher